For most couples, a wedding is the first time you'll ever have to think about planning a huge event, let alone creating a wedding budget. That means lots of people start planning a similar way. First you think about the wedding you want. Then you think about how much you're comfortable spending. And then you hope really hard that the two concepts match up. The problem is, it's almost impossible to know how much the event you're envision is going to cost until you start getting into the nitty-gritty of planning. Which is how you end up reading things on APW that start with, "We set a budget of $5,000 but once we started actually planning, that number quickly tripled."
The media would like us to think that these couples just got caught up in the expectations of the wedding industry and spent $10,000 on crystal vases. (Silly them. You would know better.) In reality? The culprit was that they thought chair rentals cost $1 when they really cost $2. Or they found out their dad would be heartbroken if they just served sandwiches. Then it turns out that the only wedding photographers in their area who didn't call them "sweetie" during the initial meeting charged $3,000 instead of the $2,500 they were hoping to spend, and not being talked down to felt like it was worth finding an extra $500 in the budget. Next thing they knew, the combined total of those surprises was $5,000 and rising.
We've all read and researched the tips and tricks for how to save money, how to have a budget wedding, and even how to stick to a budget. But how do you figure out what that budget is in the first place? And how do you do it in a way that's not going to give you sticker shock later?
What follows is a breakdown of how to even set a budget, and then eleven sample wedding budgets, ranging from $2,000 to $30,000, in a variety of styles and sizes. Because no matter what anyone tells you, it really is possible to have a perfect (for you) wedding on whatever budget you have.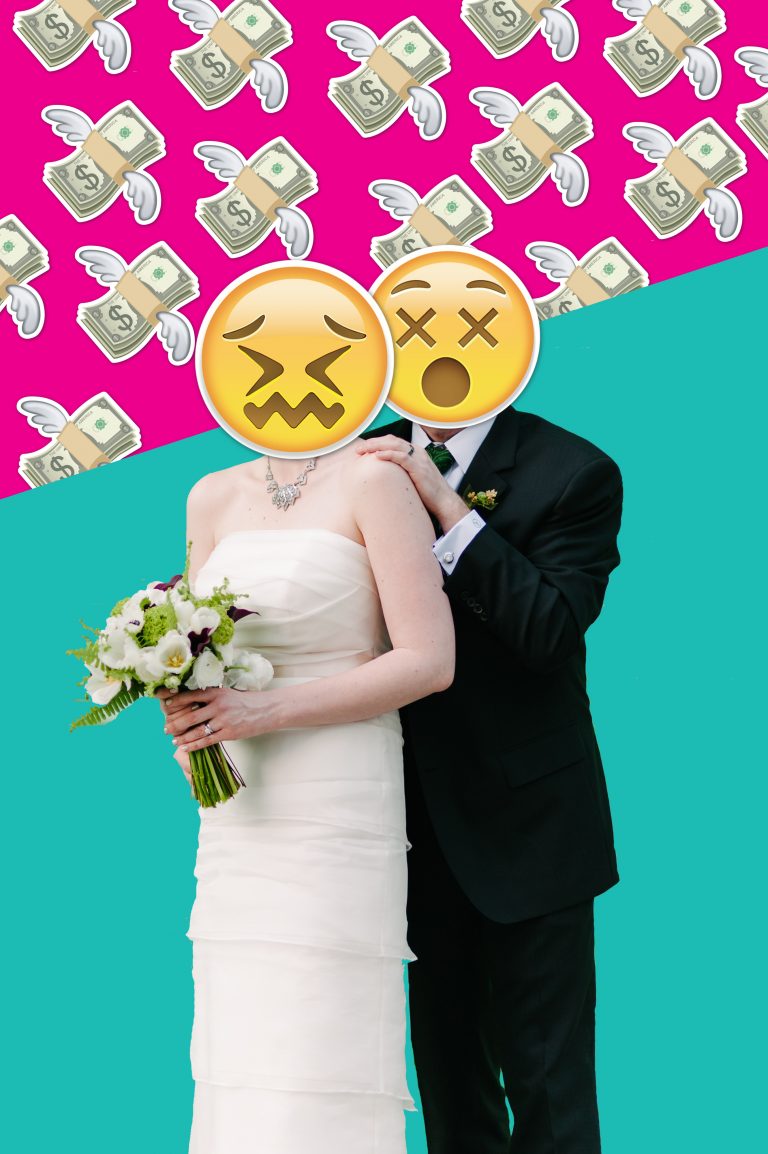 THINK ABOUT THE KIND OF WEDDING YOU WANT TO HAVE
This may be the one part of wedding planning that you've already knocked out of the park. But if not, it's time to get to dreaming. Do you and your partner want a picnic in the park, an intimate urban party, or a huge shindig with all your friends and family? There are so many different kinds of weddings out there, and so much inspiration, that it can get overwhelming quickly. You shouldn't spend too much time on specifics initially, but you should determine the general feel you want for your wedding. Think about the look, the style, the people, and the emotions—all the pieces that will make your wedding unique to you two. I often tell couples to think about weddings they've been to or seen, and figure out the words to describe them. Because while fun and fancy can coexist, they don't always. For example, you may want your wedding to be low key and relaxed like your cousin's last year—but a little more formal, while still avoiding a stuffy feeling. You can even start to get more specific, think: "Low-key ceremony, with a relaxed upbeat dance party, and a family-style dinner that feels casual but looks kind of fancy-ish."
CRUNCH SOME NUMBERS
Here's where it's time to get serious about figuring out how much you have to spend. Not everyone sets a clear and strict wedding budget total and sticks to it, and that's okay. However, for most people in need of a wedding budget there is some discussion that needs to take place. Sit down with your partner and figure out how much money you are ready, willing, and comfortable spending on your wedding. Are other people going to be contributing financially to your wedding? This is also the key time to discuss with them what and how they will be helping. Sometimes this is a dollar amount that you can build right into your budget, and other times it's a particular portion of the wedding that they're going to pay (up to a certain amount) on your behalf. Either way it is important for you to know before you dive into budgeting and planning.
I know that talking to our families about money isn't always the easiest or the most comfortable thing to do, but sometimes it just must be done. Generally I think it's helpful to start with the mindset that your families may or may not be able/willing to contribute, but that you are asking because it's better to ask than to miss out. The conversation could start a little something like: "Hey Mom, _____ and I have been engaged for a few months and we've decided to start thinking about planning a wedding. We are really hoping to have a fun, laid-back gathering for all the people that are closest to us. I'm not sure if you've thought about it yet, so no need to answer today, but I was wondering if you and Dad are willing and able to contribute in some monetary way to our plans? Whatever you're able to offer would be beyond helpful!"
Another number that needs to be crunched at this point is your guest count. This is the time when you and your partner should open up an Excel file and start inputting names of people that you want to invite to your wedding. No matter where you are, or what kind of wedding you're planning, the number of guests you plan to invite will make a huge impact on your wedding budget.
PRIORITIZE
You and your partner should each pick your top three priorities for the wedding day. These could be just about anything: Rocking music, an open bar, that photographer your cousin's friend's sister had, a four-tier cake, late night tacos, a live string quartet, tons of flowers, or any other detail you each feel strongly about. Having this short list of priorities is just a good idea so that you can focus a little more money, or time, or energy, on the things that are most important to the two of you. I recommend making these lists separately and then sitting down together—you don't want to be tempted to write down the same things your partner wrote down; it's better to have an honest idea of your priorities!
An example of how this could play out:
GET REAL
You should now have a starting number of guests, an idea of how much money you'll spend, and a vision of what your wedding might look and feel like. With these pieces of information, it's time to start finding out if it's all possible. The unfair truth about weddings (and money in general) is that sometimes the things we wish would work, just won't. This is the "getting real" phase. Maybe you dreamt of a huge sit-down dinner for your 250 closest friends and family, but you only have $4,000 to spend. How's that going to play out? Tip: while most websites don't list budgets on the real weddings they publish, you can start to get a feel for how weddings come together by reading the APW How We Did It Series. What does $4,000 mean when you want to feed 200 people? When you start seeing how other couples sacrificed and compromised in their weddings, it can be easier to imagine how you'll do the same for yours.
RE-EVALUATE, ESTIMATE, AND CREATE
If your original plans and your numbers don't match after doing some quick research, take some time to re-evaluate. Can you spend more money to make your ideal wedding happen? (And more importantly, do you want to?) Can you change the type of venue or overall look and feel of your wedding to make it fit your budget? Can you DIY or even remove some elements to save? While there are always ways to save money, if your budget and your vision are in direct contradiction, you have to find ways to level out the plan.
A note on DIY: Making elements of your wedding is a great way to add your personal touch to things, especially when you can't get your desired look anywhere else. But it doesn't always save money or time. So be realistic about what you want to DIY, and don't fall into the trap of setting yourself up for hours of crafting if it's not worth it. You're better served by cutting things that aren't important to you, because making things that aren't important to you is a version of hell you don't want to live in.
KEEP YOURSELF (AND YOUR MONEY) ACCOUNTABLE
I've created a template for you to use when building a budget for your wedding. It is important to note that there is absolutely no way to create a wedding budget worksheet that fits every one of your weddings. There are simply too many variables, and suddenly this document would be twelve pages long. I have included some industry standard percentages so that you can have a place to start, but you should by no means feel locked into those numbers—adjust them to fit your priorities and your event. Getting married in Mom's backyard? Your venue now costs zero percent! Is your cousin baking your cake as a wedding gift? Cut that down to zero! Just remember that this is your budget, and your wedding, so make adjustments that fit. (Note some things that are not included: honeymoon, other parties, hotel accommodations, rings, wedding party gifts, super specific items like rentals, ceremony items, or decorations for the getaway car.)
DOWNLOAD THE APW Free Wedding BUDGET SPREADSHEET
Here are some steps for using the worksheet in a personal and useful way:
Input your current planned "Total Budget."
Use the industry percentages outlined to break up your budget by category. Insert the corresponding dollar amounts under "Budgeted Estimate $." (This should give you a basic guideline so you don't accidentally spend eighty-five percent of your funds on your caterer and then need to increase your budget drastically—but remember not to feel trapped by these numbers!)
Strike out or remove any pieces that you won't be having or won't be paying for, and reallocate that money. (Example: Your parents have agreed to pay for the DJ, you can just remove that line item and not worry about it!)
Add in any line items that aren't here but that you know you want to have. This budget worksheet is specific to the wedding day—if you need to include the rehearsal dinner or a morning-after brunch, you'll need to add that in! You can also add a lot of specifics for your event that aren't here so that you can keep track of money spent in a more detailed fashion.
Update as you go. When you get proposals from vendors, you can add the costs into "Actual Estimate $." As you sign contracts and pay deposits, add those amounts and due dates into "Deposit Amount Paid $," "Balance Due $," and "Final Payment Due Date." And don't hesitate to reallocate the amounts as you go so that you have an up-to-date visual of your wedding budget and money spent. This way, you end up with no surprises.
Real Wedding Budget Breakdowns
The most important thing to remember when you're putting together your budget is that no two weddings are alike. Your budget, and how money is allocated, is fluid and will undoubtedly change and need adjusting throughout the planning process. But what kinds of weddings can you actually throw at various price points? Where can you get creative with the money you've got? To answer those questions, here's broad overview at what some different wedding budget breakdowns might look like in practice. While these are meant to serve as sample wedding budgets, they come from years of seeing real couples plan weddings on similar budgets in similar circumstances. These budgets are not meant to limit you, but instead to help you start brainstorming ideas. Mix and match. Let them inspire you. Forget the hotel wedding (unless of course, you want the hotel wedding!); wedding ideas come in all shapes and sizes.
A $2,000 WEdding Budget Breakdown
The City Hall Elopement/Super Small Wedding
Venue/Officiant: $150 for a thirty minute slot at City Hall for you and up to six guests, officiant included
Attire: $200 dress; $100 suit
Flowers: $100 for one bouquet and one boutonnière
Photographer: $800 for a quick one-hour session of ceremony plus portraits
Delicious restaurant lunch and drinks for eight: $600
GRAND TOTAL: $1,950
The Backyard Dessert Party
Venue: $0
Invites: $0 evites
Officiant (family/friend): $30 to be ordained
Flowers and decor: $250 DIY
Rentals: $300 for a few supplemental chairs, tables, and linens
Dessert for 50: $200, plus donated by family and friends
Photographer: $1000
Champagne and iced tea for 50: $200
Casual backyard party attire: $100
Music: $0 for iPod and borrowed speakers
GRAND TOTAL: $2,080
Other options for the $2,000 budget:
Elope to Colorado and marry yourselves in the woods. Plus, it can be an awesome honeymoon!
The backyard dessert party could become a potluck with the participation of your awesome family and friends. In which case, maybe throw some more money at the booze budget!
A $5,000 Wedding Budget Breakdown
The Backyard Food Truck Extravaganza
Venue: $0
Attire: $200 for two dresses; $50 for shoes
Invites: $80, DIY'd (don't forget about stamps!)
Decor: $800 for string lights, flowers, and table and chair rentals
Flowers: $200 for two bridal bouquets and two smaller bouquets
Catering: $2000 for delicious food truck eats for 50 people (including compostable dishware!)
Beer and Wine: $500
Dessert: $300 for pies from a local bakery
Music: $150 for your iPod, your seventeen-year-old cousin/aspiring DJ, and rented speakers
Photography: $500, by a local art student
GRAND TOTAL: $5,030
A $10,000 Wedding Budget Breakdown
The Outdoor Venue with a Full Meal
Venue: $2200 including chairs and tables
DJ: $800
Food and Alcohol: $3800 (Sample how-to: restaurant delivered food or affordable catering at $30 per person, booze at $20 per person, with 75 guests)
Attire: $350 dress; $150 suit
Decor: $500 for string lights purchased on sale and DIY flowers
Photographer: $1200
Day-of Wedding Coordinator: $900
Dessert: $250 for cupcakes
GRAND TOTAL: $10,150
The Mid-Day Party with the Dream Dress
Venue: $1100 (12:30pm ceremony, 1:00pm cocktails and appetizers, 5:30pm end time)
Rentals: $800 for chairs and a few cocktail tables plus linens
Attire: $1200 dress and shoes; $200 suit
Invitations: $300
Catering and Alcohol: $3500, including heavy appetizers served from 1:00pm–4:00pm
Cake: $500
Photographer: $2000
Music: $200 for a live guitarist during the ceremony, $200 for rented speakers plus iPod
Decor: $150 for one bouquet, one boutonniere from a professional; $300 for DIY centerpiece flowers
GRAND TOTAL: $10,250
A $15,000 Wedding Budget Breakdown
The Art Gallery All Night Party
Venue: $800 (You can often save a ton by thinking outside the "wedding venue" box!)
Rentals: $1500 for chairs, tables, linens, and basic lighting
Attire: $700 dress and shoes; $250 suit
Alcohol: $900
Catering: $5,000 for a full buffet plus a late night snack 
DJ: $2,000
Photographer: $3000
Decor: $500 for candles spread around the space
Planning: $500 for consulting with a wedding planner to ensure the details are in place
GRAND TOTAL: $15,150
The Intimate Hawaii Extravaganza (like this one)
Venue: $7000 for a house for the weekend
Rentals: $800 for tables, chairs, linens, and lights for 35 people
Catering: $3900 for a full meal plus for 35 people
Alcohol: $700, self purchased
Invitations: $75, using an online service and evites
Attire: Two rented suits at $200 each
Photographer: $2500
Cake: $400
Music: $0, DIY'd by a friend
Flowers: $0, greenery and flowers from the Hawaii landscape
GRAND TOTAL: $15,775
A $20,000 Wedding Budget Breakdown
The Brooklyn Bash
Venue and Full-Service Catering: $12,000, including food, alcohol, tables, chairs, and service staff for 55 guests
Photography: $2,000
Wedding Planner: $2,000
Invitations: $800
Attire: $800 dress; $150 suit
Flowers and Decor: $1,200
DJ: $1,000
GRAND TOTAL: $19,950
The Barn Party
Venue: $1,000
Full-Service Catering: $11,400 for food, alcohol, rentals, and staff for 120 guests
Wedding Planner: $2,500
Photographer: $3,000
Flowers: $2,000
Attire: $1,100 dress; $200 suit
DJ: $1,200
GRAND TOTAL: $20,600
A $30,000 Wedding Budget Breakdown
The Big Church Ceremony with Hotel Party to Follow
Church/Ceremony Rental: $400
Wedding Planner: $2,800
Reception Venue and Full-Service Catering: $17,000, including all food, alcohol, rentals, and staff for 140 guests
Flowers: $2,500
Photography and Videography: $4,000
Attire: $1,400 dress; $250 suit
Live Band: $3,000
GRAND TOTAL: $31,350
The Mountain Weekend Retreat
Venue: $6,000 for a whole weekend at a summer camp in the woods
Attire: $600 dress; $140 groom's attire
Friday Night Potluck: $800 for alcohol and appetizers
Saturday Breakfast and Lunch: $3,000
Music: $500 live strings during ceremony; $1,200 DJ
Saturday Night Full-Service Catering: $10,000, including all food and alcohol
Decor: $3,000 for flowers and extra rental items
Sunday Morning Brunch: $2,000
Photographer: $2,800
GRAND TOTAL: $30,040
Try to remember—while having a budget worked out is important, and helpful, and down right necessary in the wedding planning process, what's really important is that you and your partner end up somewhere with all of your favorite people (or none of your favorite people), committing yourselves to each other, and starting a marriage.
How did you creatively solve your wedding budget breakdown? Who's game for sharing their real wedding budget? Dish!